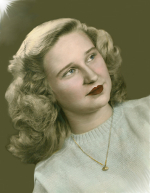 Billie Von Schaff Anderson
April 3, 1929 – Septermber 24, 2011
Billie Anderson was a great woman. She was really the only grandparent I remember growing up. I have tried to find something so amazing to say about her but have trouble finding the right words. So I have decided to share with you a few of my most favorite memories with her.
I remember when I was in the 2nd grade when I was just about 7 years old. She would pick me up everyday from school and we would go to the varsity for a pimento Cheese stake and varsity orange.
I remember that she would help me to learn how to draw monsters when I was just a little kid. She always drew them so much better than me.
NO matter how embarrassing it may seem, I still remember her teaching me how to sew. I thought it was the coolest thing that I was able to make a bag for my stuff.
I remember playing behind her house off briar cliff road. Rolling down the hill burning all my energy up before mom and dad came to pick me up.
I remember when I was in trouble with my Mom and Dad; I used to cry for my grandma. There was this one time that I had decided that I wanted to go live with her.
I remember going on vacation with her and the whole family to the beach when I was young. I can still see the silly Spanish looking hat on our heads.
I can remember her at my college graduation, with an incredible smile on her face.
I will miss the weekly talks we had together. I will truly miss Grandma Billie,