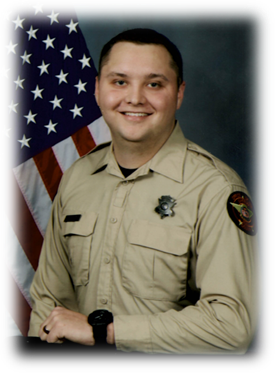 On July 8th 2019 we lost a Husband, Father, Son, Uncle, Friend, and a Protector of our great community. Deputy Dixon Job well done sir, and thank you for your services to this great community. Our thoughts and prayers are with your family as they learn to walk out each day with out you. You will never be forgotten!
Hall County sheriff's Sgt. Charles Hewell became fast friends with rookie deputy Nicolas Blane Dixon when he was first assigned to his shift about nine months ago.
They were both 28 years old, had young families and played the same sports growing up. It wasn't long before Hewell treated Dixon as a seasoned patrol officer, trusting him as a deputy as much as he did as a friend. After working together during a serious incident a couple of weeks ago, the two officers never left each other without an "I love you."
And when Dixon was hit with a fatal bullet during a shootout Sunday night between deputies and four teenage suspects, Hewell was by his side.
"I grabbed him by his vest and told him to hold on," Hewell told the audience of friends, family and Georgia law enforcement officers who came to honor Dixon at his funeral Thursday morning. "My brother held on and fought longer than he should have. That's just the fighter he was."
Dixon died in the hospital early Monday morning. The bullet struck him under his ballistic vest. He leaves behind his parents, Fred and Jada Dixon; his wife, Stephanie; and two young sons, 9-year-old Caden and 3-month-old Colton Justice.
"Blane had a giant heart," Hewell said. "He could go from finding a suspect and being a tough cop to doing everything he could for someone he met on a call or someone walking by who looked down in the dumps."
A memorial fund benefiting the wife and children of Deputy Nicolas Blane Dixon has been established at Peach State Bank Trust in Gainesville, Georgia. The Hall County Sheriff's Office is very grateful for the outpouring of support from members of the community, businesses, and other organizations during this time of need. 100% of all donations go directly to the family.
Please make all checks payable to the following:
"Deputy Nicolas Blane Dixon Memorial Fund"
Interested donors can make deposits in person, or at the bank's drive-through teller line or night deposit box at the following address:
Peach State Bank & Trust
325 Washington Street
Gainesville, GA 30501
Donors can also mail their donations to the following address:
Peach State Bank & Trust
PO Box 290
Gainesville, GA 30503-9835